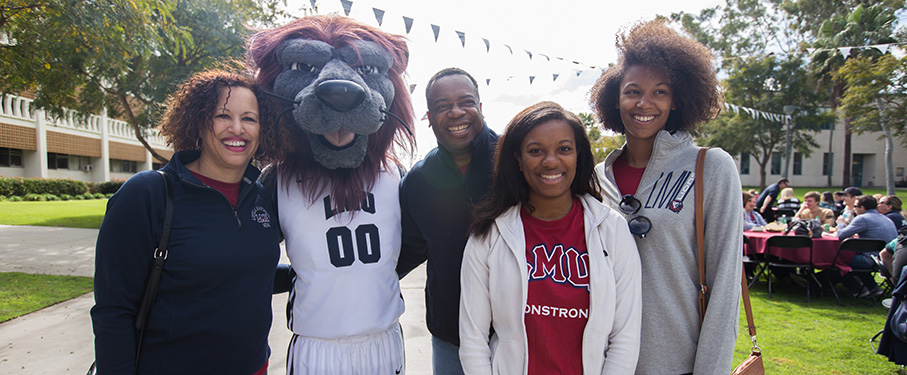 LMU hosts a variety of events both on and off campus to help Lion Parents and Families to feel connected and engaged in their student's experience. Come join us for an event and be a part of our Pride!
Preview Day (April)

Admitted students and their families are invited to come to campus one last time before making a final decision. Preview Day offers the opportunity for families to meet current students, faculty and staff, and attend presentations detailing our top-ranked academic programs.

Orientation and Welcome Weekend (August / January)

After parents move their students into the residence halls on move-in day, they can take a break and give their students some time to unpack, settle in, and meet their roommates and neighbors. Members of the Parent Council and Parent Ambassadors support this event by answering last-minute questions at the Parents Table during the information fair.

Family Week (February)

Family Week is an opportunity for families of all class years to personally experience the academic, service and social values their Lions experience daily at LMU. Parents, grandparents, siblings and other family members are invited to join their LMU student and other families for Family Weekend!‌

Commencement is a significant and celebratory event, the culmination of years of study and accomplishment! Loyola Marymount University's Commencement Weekend events are open to the public. Tickets are not required. Students should plan to attend GradFest to prepare for Commencement!

Admitted students and their families are invited to regional receptions connecting them with alumni, current students, and each other

Current LMU families around the country host send-off receptions in their hometowns to celebrate incoming LMU students. Send-off receptions help connect new students, their families and friends to other local LMU families. Members of LMU's staff or administration often attend the receptions to greet and welcome new students and families.

Fall Coffee and Conversations (September-November)

Regional events hosted by current LMU families, Coffee and Conversation events offer unique opportunities for parents to connect and get to know other Lion families near their hometown.

Northern California Wine Tasting Trip (November)

Get to know fellow LMU parents while tasting some of the best wines that Napa Valley has to offer!

Spring Parent Socials (March-May)

Regional events hosted by current LMU families, Spring Socials bring Parents together to connect and celebrate the end of LMU's school year.

Global Day of Service (March)

Regional events inviting LMU alumni, students, families and friends to gather and volunteer time in the spirit of alumni for others, helping those in need.