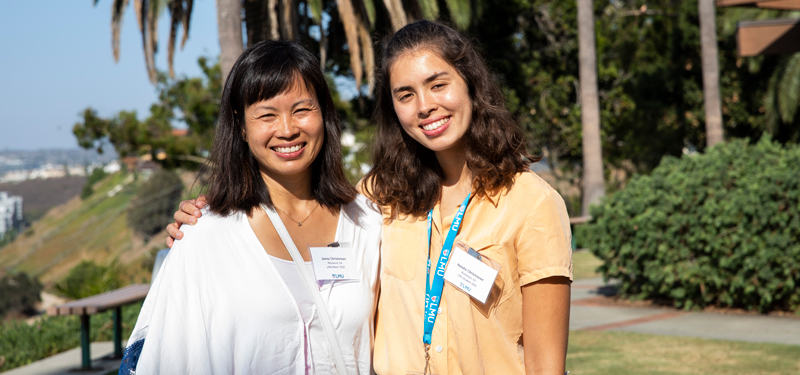 Parent and Family Involvement
Families, you are integral members of our vibrant Lion community. You can be an LMU advocate on campus and at home by serving as a volunteer, attending or hosting LMU gatherings, and supporting the university philanthropically.
Family Engagement invites you to get involved in the ways that are most meaningful to you and offers several opportunities throughout the year including:
Lion Family Send-offs
(June-August)
These celebrations, welcoming incoming Lions from around the world, are hosted by LMU families and create meaningful connections.
Admission's Parent and Alumni Panels: "Experience LMU"
(November-December)
Parent and Alumni panelists share their LMU experiences with prospective families.
LMU Family Week
(February)
LMU Family Week is an annual event that allows family members to experience life on the bluff. Attendees get a chance to visit with their students, attend a basketball game, and experience all that being an LMU student has to offer.
Admission's Parent and Alumni Panels: "Becoming an LMU Lion"
(April)
Parent and Alumni panelists share their LMU experiences with prospective and admitted families.
Career Treks
(April)
In partnership with Career and Professional Development, parents and alumni engage with LMU students around specific interests through targeted learning, conversation, and informal networking.
Handshake
(Year-Round)
Interested in providing internships or jobs for students? Sharing internship, part-time, and full-time positions on Handshake allows you to target specific LMU students by year, major, career interest, and more.
More Info
For more information on any of these events or to get involved please contact Family Engagement at families@lmu.edu or 310.258.4348.
Follow Us On:
Facebook: LMULionFamilies
Instagram: @lmulionfamilies
Parent and Family Giving
The LMU Society recognizes donors who donate $1, 000+ annually. Their support enables LMU to meet the rising need for scholarships, provide students with enhanced academic and career-focused opportunities, update campus and learning environments and support our vibrant community of student organizations.
The LMU Society
310.338.5125
thelmusociety@lmu.edu
The Parent and Family Leadership Council recognizes leaders in the Lion family including parents, grandparents, and other family members and engages them in the life of the university. Members are dedicated to strengthening the sense of community among LMU families while furthering the university's mission and vision set forth by the strategic plan for 2021-2026 "Creating The World We Want to Live In" through volunteerism and philanthropy. If you are interested in learning more about the Parent and Family Leadership Council or other ways that you can make a difference, please email parentcouncil@lmu.edu and a member of the Parent and Family Philanthropy team will follow up with you directly.
Parents Fund
You can be an advocate for your student by financially supporting the LMU Parents Fund. Gifts are a further investment in your student's future because these funds directly benefit their academic and co-curricular experience.
Gifts to the Parents Fund are used where they're most needed to immediately benefit students. Your gift supports:
Scholarships
Academic programs
Service learning, global engagement, and immersion experiences
Student initiatives
Information Technology
Every gift is meaningful and demonstrates your belief in the transforming power of education.
Parents Fund
giving.lmu.edu