LMU Family Week
Feb. 15-20
Family Week is an opportunity for families of all class years to personally experience the academic, service, and social values their Lions experience daily at Loyola Marymount University. Parents, grandparents, siblings, and other family members are invited to join their LMU student and other families for Family Week!
Registration for Family Week 2022 is now closed.
Signature Events
Tuesday, February 15, 3 PM
Join President Timothy Law Snyder, Ph.D. as he kicks off an exciting week of engaging opportunities for our Lion families. Please click the link above to view.
Academic Deans' Address
Thursday, February 17, 3 - 4 PM
Hear from your student's academic dean about their priorities and state of the school or college.
Java with the Jesuits
Saturday, February 19, 8:30-11 AM
The Jesuit Community invites you to join them for an Open House with coffee, tea, pastries, and good conversation.
LMU Family Week Townhall with Provost Poon
Saturday, February 19, 11 AM - 12:15 PM
Please join Executive Vice President and Provost Thomas Poon and university leadership for a special Family Week Townhall address. Here students, parents and families will have an opportunity to learn more about the state of LMU and future plans.
Little Cubs Day
Saturday, February 19, 10 AM-1:30 PM
Sponsored by LMU Residence Hall Association, Little Cubs Day is a chance for your future Lions to get will include a continental breakfast and activities aimed for current LMU students and their younger siblings. Lion Cubs must be at least 6 years of age and registered to attend with their LMU Big Sib Lion.
LMU Game Day Experience
Saturday, February 19, 12:30-2 PM
Experience Lion Pride at its best! This student-style tailgate includes some of LA's most popular food trucks, interactive games, a cash bar, and more! One meal per LMU Family Week registrant is included.
Prepare for Your Visit
Check out this year's event schedule and get everything you need to prepare to visit our campus for Family Week.
Lion Lounge Check-In
During the in-person portion of the week, please visit the Lion Lounge to check-in! Here you will pick up your name badge, Family Week t-shirt, wristband for games, etc. Our staff will be available at the hours listed below throughout the weekend.
| | | |
| --- | --- | --- |
| Thursday, February 17 | 6:30 - 8:30 PM | Gersten Pavilion (wristband only) |
| Friday, February 18 | 9 AM - 5 PM | St. Robert's Hall Auditorium |
| Saturday, February 19 | 8 AM - 5 PM | St. Robert's Hall Auditorium |
Join the Pride
Basketball season is in full swing and we invite students and their families to cheer on the Lions as the Men's team take on Santa Clara, and the Women's team take on Pacific!
And check out Opening Weekend for our Men's Baseball team! Tickets can be purchased online.
Purchase Athletic Game Tickets
Social Media Toolkit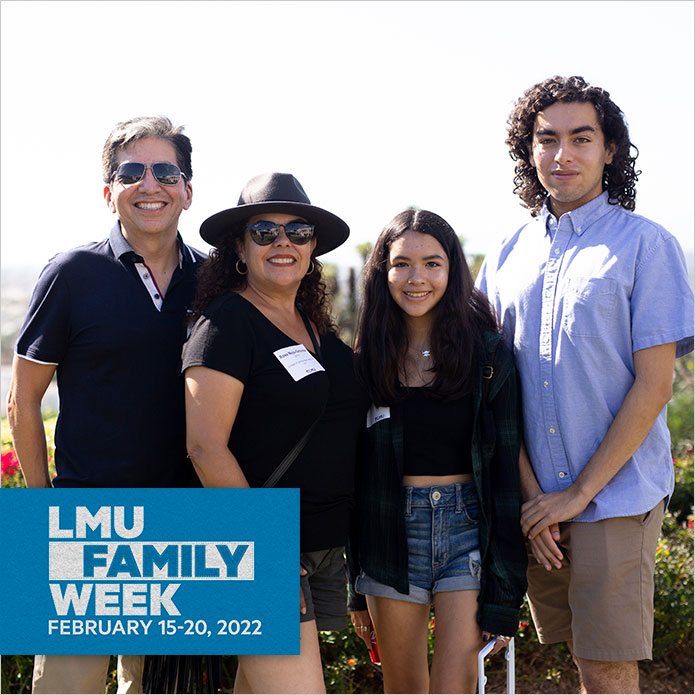 Add some flair to your profile with our special LMU Family Week Toolkit!
Get Social
Lion Swag
Make sure you have the latest Lion swag in time for Family Week! Use code HELLO21 at checkout for 10% off a LMU logo item!
Gear Up