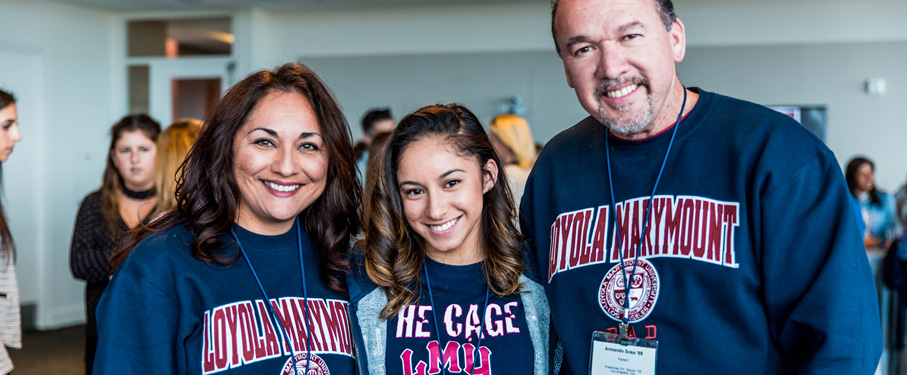 ‌To help Loyola Marymount University parents prepare for the upcoming academic year, LMU's Parent and Family Programs has synthesized important information, dates and deadlines into the following checklists:
August

August 1: Student Health Services Entrance Requirements Deadline

Please see the instructions to comply with the entrance requirements by first entering the data online at the Student Health Services MyHealth portal and second, by submitting the required documents to SHS. Below are your options for submitting documents.
Mail to: Student Health Services 1 LMU Drive — MSB 8455, Loyola Marymount University, Los Angeles, CA 90045
Scan and e-mail to: lmuhealth@lmu.edu
Fax to: (310) 338-4417

August 2: Microfridge Preorder Deadline

Microfridge orders are placed through Collegiate Concepts.
Pre-order cutoff deadline guarantees that students will get the initial marketed price and that the Fridge will be in their room upon move-in. After this date, there will be a bump in the price and the unit will be delivered when schedule allows.
Emergency kits are also available for purchase through the LMU Ustore.

Early August: Distribution Center Mailbox Assignment Emailed

Students are assigned a virtual mail assignment to receive first class mail, periodicals and packages.
Students will be contacted via their Lion e-mail account to receive their assignment and addressing format.
For more information, please contact the Distribution Center Office at (310) 338-2763.

August 19-23: Distribution Center Package Shipments

Ship packages to arrive at LMU no earlier than the same week you arrive. See above section for more information regarding your student's virtual mail assignment. Bed Bath and Beyond provides a service for you to order and have merchandise held at the store to pick up when you arrive. Shop online and have merchandise sent to either:
Store #1032 8820 South Sepulveda Blvd. Westchester, CA 90045 - or - Store #1063 10822 Jefferson Blvd. Culver City, CA 90230

Mid-August: Off-Campus Student Life Verification Available

All students living off campus are required to complete the Off-Campus Student Life verification process.
Students will be contacted via their Lion e-mail account with instructions on how to complete the process.
The deadline to complete the verification process is September 13, 2019.
For more information, visit the Off-Campus Student Life website, call (310) 568-6262 or email ocsl@lmu.edu.

August 23-25: Welcome Weekend and Orientation

Stay tuned for a future Parent Pride article on how to prepare for your arrival for Move-In and Welcome Weekend.
Freshmen students are required to attend mandatory Orientation sessions during Welcome Weekend. View the First-Year Parents and Families Orientation website for schedules and more information.

August 25 (5:00 p.m. PST): Tuition Refund Insurance Opt Out Deadline

Have you thought about whether you will need to consider tuition insurance? If your student has experienced health concerns or has a chronic illness, you may want to consider purchasing the tuition insurance.
Log on to Tuition Protection and click on the tuition insurance waiver icon

August 26: First Day of Classes

August 30: Last day to add/drop classes and get 100% refund

Other refund dates:

Last day for 90% refund is 9/06/19
Last day for 70% refund is 9/13/19
Last day for 50% refund is 9/20/19
Last day for 25% refund is 10/18/19
There are no refunds after October 19, 2019.

August 30: Opt-Out of Student Parking Deadline

If a student chooses not to bring a vehicle on campus, they can opt-out of a parking permit.
To opt-out, please log into MyLMU and select LMU Park from "System Logins" drop down menu at the top of the page.

Other Information

Will your student be under the age of 18 when they begin at LMU in the fall semester?

Students under the age of 18 years old need parent permission/authorization to utilize Student Health Services. Students should download "Consent for Treatment of a Minor" form when they log into MyLMU.

Does your student have an identified disability?

Students must provide documentation from a licensed professional.
Services are offered to students who have established disabilities under state and federal laws.
Visit the Disability Support Service website or call their office at (310) 338-4216.

Visit LMU's Apple Portal

In partnership with Apple, Inc., LMU students and parents may purchase discounted Apple computers, iPads, and accessories through the LMU Storefront.