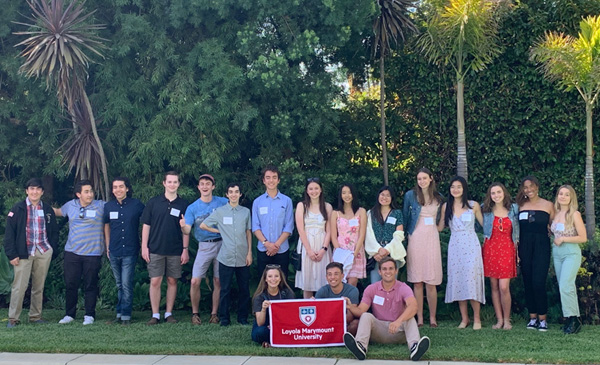 Welcome to the Lion Family!
Incoming parents and students are invited to join us for a virtual Lion Family Welcome reception to celebrate our newest LMU families. Come together with other families as we virtually welcome you to the community and create meaningful connections. Hear from current parents and students, as well as LMU staff members, as they share what it means to be a Lion.
Details for 2021 Lion Family Welcomes will be announced soon. For any questions, please contact Janna Neu '16, in Parent Engagement, at janna.neu@lmu.edu.
Please see below for all of the Lion Family Welcomes for 2020:
Great Lakes (IL, IN, MI, OH, WI)


Rocky Mountains (CO, ID, MT, UT)


Northeast (CT, MA, NH, NJ, NY, RI)


Mississippi Valley (AL, AR, KS, LA, MS, MO, TN)


International


Pacific Southwest and Hawaii (AZ, NM, NV, HI)


Mid-Atlantic (DC, MD, NC, PA, VA)


Pacific Northwest (AK, OR, WA)


Northern California (Bay Area)


Plains States and Texas (IA, MN, NE, OK, TX)


Orange County and San Diego


Southern California


Southeast (FL, GA, SC)
Connect with us on Facebook and Instagram at the LMU Lion Parents pages.